DESIGNER
Marie Flanigan is an award-winning designer whose passion and achievements in design have positioned her as one of the nation's best. Her trademark style is evident through the sophisticated use of color, texture, and light. Every home she designs receives her personal signature of timeless elegance and innovative simplicity.
HOME
4,000 s.f. Neo-Tudor new build in a historic Houston neighborhood
AUTOMATION INTEGRATOR
Bravas Houston
PHOTOGRAPHER
Julie Soefer
SCOPE OF WORK
Weave Customization, Automation Project Management (APM), Customer Provided Motor (CPM)
OBJECTIVE
Create custom handwoven natural shades for the home, and work with the Designer's Integrator, Bravas, to install and automate each shade seamlessly.
HARTMANN&FORBES SAT DOWN WITH MARIE FLANIGAN TO DISCUSS THE PROJECT, DESIGN INSPIRATION, AND LEARNINGS THAT CAME FROM THIS INSTALLATION.
H&F: Why did you want to work with Hartmann&Forbes on your personal home?
MF: Hartmann&Forbes is such an incredibly aspirational brand. I knew I wanted to partner with H&F for my personal home because their product represents the best of woven woods, luxury, and function. Customizing shades was also incredibly important to me, and I loved that I was able to create different weaves and details depending on the room. I was able to take existing Hartmann&Forbes designs and change the fibers and/or colors, and tweak other design elements, which made for a very fun and exciting process.
"No matter your design style, Hartmann&Forbes creates to suit."
~ Marie Flanigan
H&F: What was the design inspiration for your new family home, and how did Hartmann&Forbes windowcoverings support the overall design?
MF: I am always drawing inspiration from nature, as it influences most of my designs. I knew that woven shades would be the perfect natural complement to my home, especially since Hartmann&Forbes offers beautifully unique ways to customize each shade. Hartmann&Forbes can weave extra-density shade panels with more weft and/or warp yarns to create a thicker, denser weave for more light control and/or more privacy. There is also an option to create a tone-on-tone or contrasting edge that can be woven into the shade panel, edge detail is available up to 5" wide (Grassweave Essence Collection), which made for a sweet addition to our family room shades.
H&F: Is there something specific about natural window coverings that appeals to your design aesthetic?
MF: I think natural window coverings are a beautiful and thoughtful way to add texture and layers to a space. We use Hartmann&Forbes in most of our clients' homes because the weave is superior and provides added warmth to any space.
H&F: How important was it for the shades in your new home to be automated?
MF: For my home, windows and natural light were an imperative design element. Windows were one of my biggest investments in the home, and I knew it would take a special partner to help me harness the natural light that I desired. That said, with so many windows throughout the home, it was very important to include automation. The shades are set to a timer making the ability to open and close the shades seamless. We have an abundance of light during the day when the shades are raised, and at night, we're able to enjoy privacy while closed. It's great to know that designers and integrators can drop-ship Lutron or Crestron motor components to Hartmann&Forbes finishing facility, as they will build a finished shade using those parts. The shades arrived at my home ready to install, which added efficiencies to the installation process. I also appreciate the fact that there is a 5-year craftsmanship warranty.
H&F: Tell us more about your overall experience of working with Hartmann&Forbes on this project. Did we deliver on the products and services we promised?
MF: I get to work with lots of wonderful industry professionals, and I can easily say that the Hartmann&Forbes team was one of the most gracious and professional teams I've had the pleasure of working with. From design to installation, it was an easy and lovely experience working on each shade for the appropriate rooms. They answered all of my questions quickly and with a wealth of knowledge. Further, Hartmann&Forbes has a technical team (Automation Specialists) that I have come to rely on for my client projects. Since window shade automation is becoming a standard in our work, we really rely on the technical team at H&F to solve A/V solutions and help integrate shades with the home. Integration was seamless, and they added the perfect touch to each space. I could not be more pleased with the products and end result.
H&F: Were there any challenges that popped up over the course of working on this project? What were the solutions?
MF: I live in the Historic Heights area of Houston, Texas, where houses are built very close to one another. I wanted to ensure privacy, so the H&F team worked with me to create custom weaves that provided privacy while allowing natural light. Adding automation to all of the shades was certainly a team effort. I was so grateful that Hartmann&Forbes APM worked with my automation integrator, Bravas, to create a seamless installation experience. Kevin, Bravas Houston, had a wonderful experience working with the H&F technical team. All of his questions were answered quickly, and they were able to combine Hartmann&Forbes products with our Lutron system seamlessly.
H&F: You mentioned earlier that you regularly specify automated window coverings in your clients' homes, too. Do you have any advice for other designers about how to successfully implement automated shade systems in their projects?
MF: In my industry, experience matters, especially as it relates to windows, window coverings, installation, and automation. Automating shades is incredibly nuanced, as there is so much to consider in each install. Partnering with a window covering expert, such as a custom integrator or automated shade specialist, allows designers to incorporate automation technology into their projects while still honoring the design of a space. Integrating automated roman shades, drapery panels, and roller shades into architectural detailing is commonplace in our firm's work. Some of my favorite ways to do this are ceiling pockets for drapery, window pockets and crown pockets for roller shades, and inside mount integration for roman shades. I knew my home would be a very large install with lots of details; however, I felt incredibly confident in the team we assembled for the measuring and installation. A lot of my windows, like the very large kitchen window, required multiple panels, so precision was key. With the measurements, the Hartmann&Forbes team was able to create perfect symmetry between panels, and Bravas ensured that all panels were raised and lowered equally.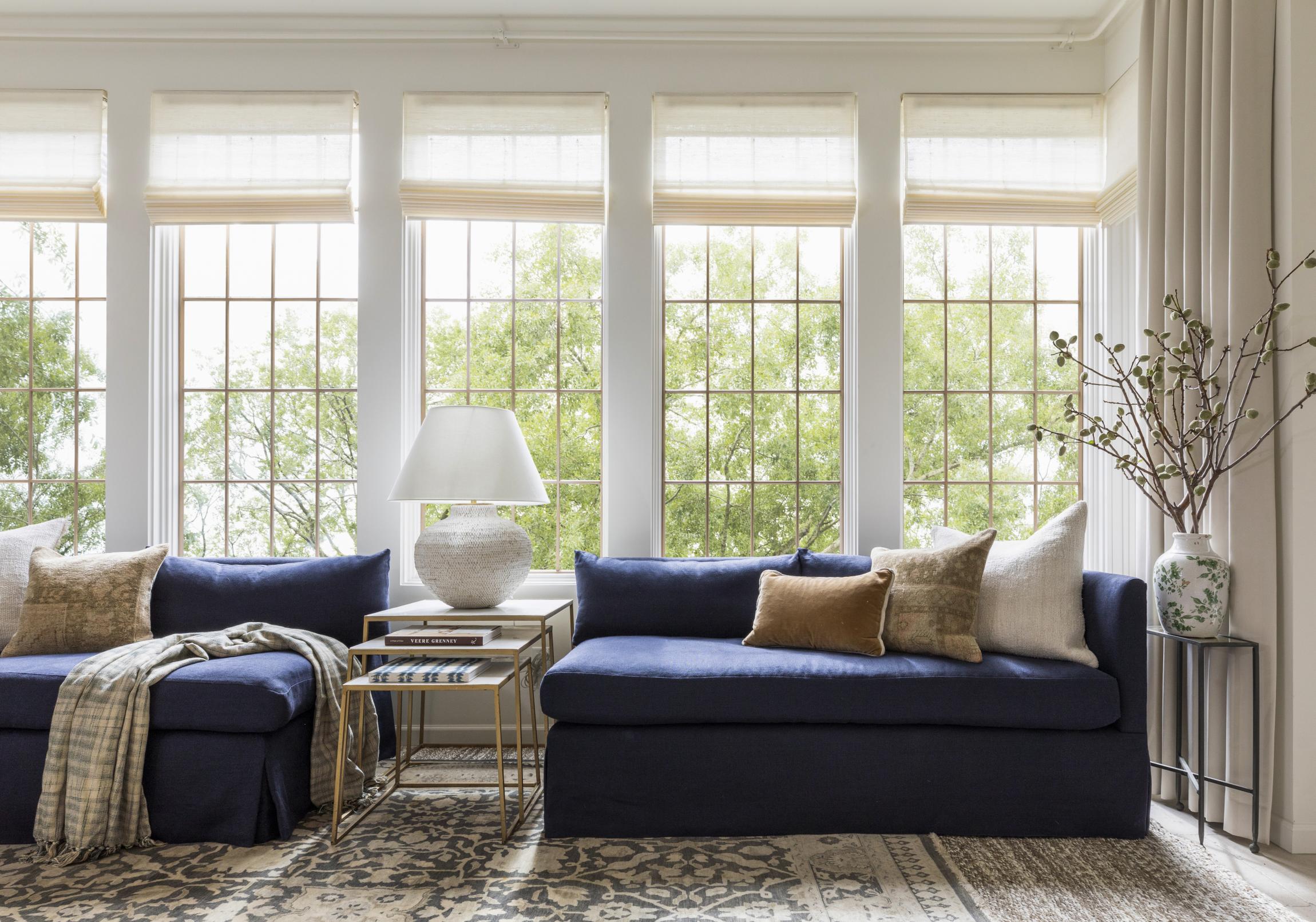 "I am always drawing inspiration from nature, as it influences most of my designs. I knew that woven shades would be the perfect natural complement to my home, especially since Hartmann&Forbes offers beautifully unique ways to customize each shade."
~ Marie Flanigan
H&F: And designers who are partnering with a custom integrator or automated shading specialist can take advantage of Hartmann&Forbes' Customer Provided Motor (CPM) program…
MF: Yes! The CPM program is great as designers can still keep the decorative portion, like fabrics and drapery components, within purchasing. Then, the A/V company works directly with Hartmann&Forbes to order and integrate the Lutron motors and wiring, creating a win-win solution where everyone has a profit on the sale of the window treatments.
H&F: Any final thoughts you'd like to share about Hartmann&Forbes' product offering for automated shades?
MF: No matter your design style, Hartmann&Forbes creates to suit. I love that they have plenty of styles that speak to different design aesthetics. The minimalist may want a sleek roller shade, while someone who appreciates transitional design desires a roman shade. However, all of their shade options have the ability to be automated, which is important when assessing the shade's function within a space.
"When designing my new home, I had the privilege of working with the Hartmann&Forbes team to create a gorgeous custom weave. The finished product is a stunning accent that adds unique texture and timeless appeal to any space."
~ Marie Flanigan
MORE ABOUT THE PROJECT:
Hartmann&Forbes' Automation Project Management (APM) program has in-house automation specialists to work with designers and integrators to configure and specify automated shading systems. Schedule a consultation.
Hartmann&Forbes' Customer Provided Motor (CPM) Program allows Designers and Integrators to drop-ship Lutron or Crestron motor components to H&F's Oregon finishing facility. H&F will build a finished shade using those parts. Shades arrive ready to install and include a 5-year craftsmanship warranty.
Hartmann&Forbes unique custom capabilities offer a broad range of design solutions with weaving and fabrication capabilities that are unmatched. Customize a weave to achieve the color or design that best fits your project – remove, change or add threads, widen the warp edge, or color-match a room detail. The possibilities are endless.