MONDAY SEPTEMBER 20, 2021
Behind The Weave with Max Humphrey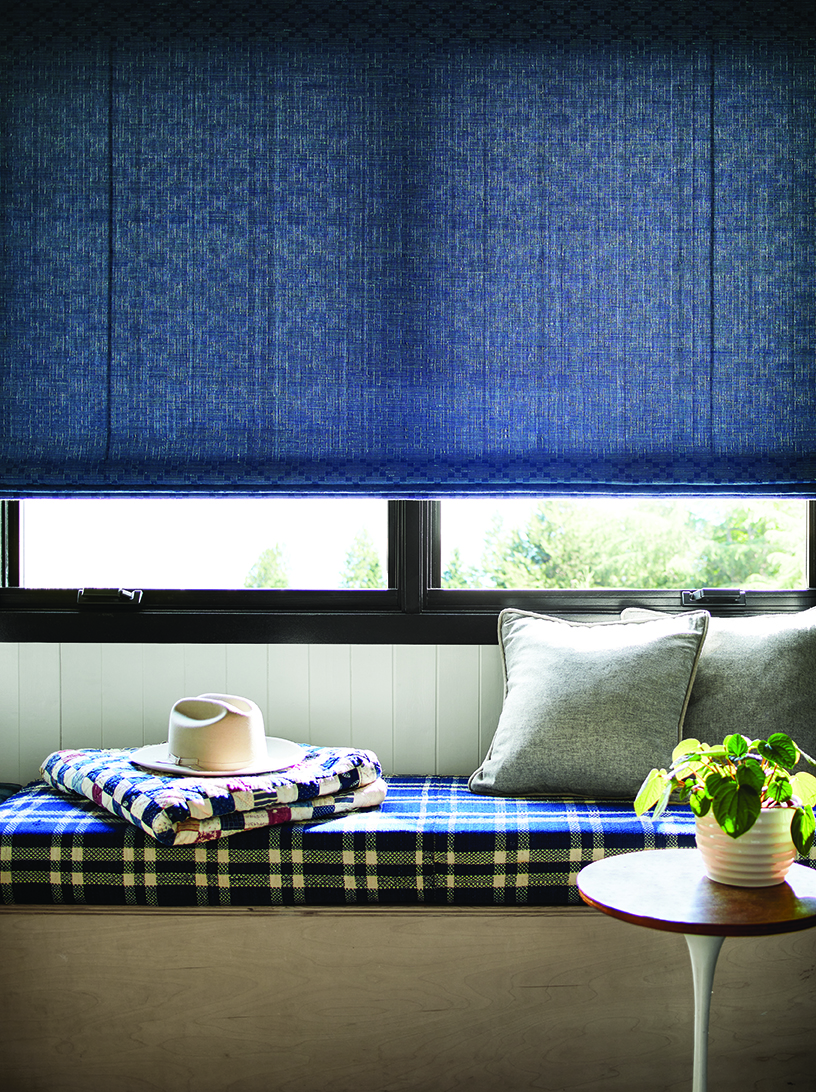 THERE IS SOMETHING ABOUT THE FALL SEASON that is especially suited for a bout of nostalgia. Maybe it's childhood memories of going back to school in your favorite autumn sweater. Or perhaps it's sitting in front of a cozy fire with your family under an heirloom quilt. Reflections of autumn's past seem to creep up on us with that first touch of chill in the air and that first leaf turning orange-red and dropping. Nostalgia, defined as a sentimental longing or wistful affection for the past, typically for a period or place with happy personal associations, is the cornerstone of Max Humphrey's design philosophy and his new Fall21 Collection by Hartmann&Forbes.
We sat down with Humphrey to discuss his process, inspiration, and what it was like designing his first collection with Hartmann&Forbes.
H&F: What's your design process? What inspires you?
MH: I'm inspired by things I remember about my childhood growing up in New England. In my case, it was plaid sofas in the living room, antique stores on the weekends with my parents, and a sort of New England country preppy look. My aesthetic life has been about creating that as an adult. For my creative process, a lot of it is product-based; I like to go shopping to get the juices flowing. It could be finding a little vintage paint-by-numbers painting that inspires the color palette of a room.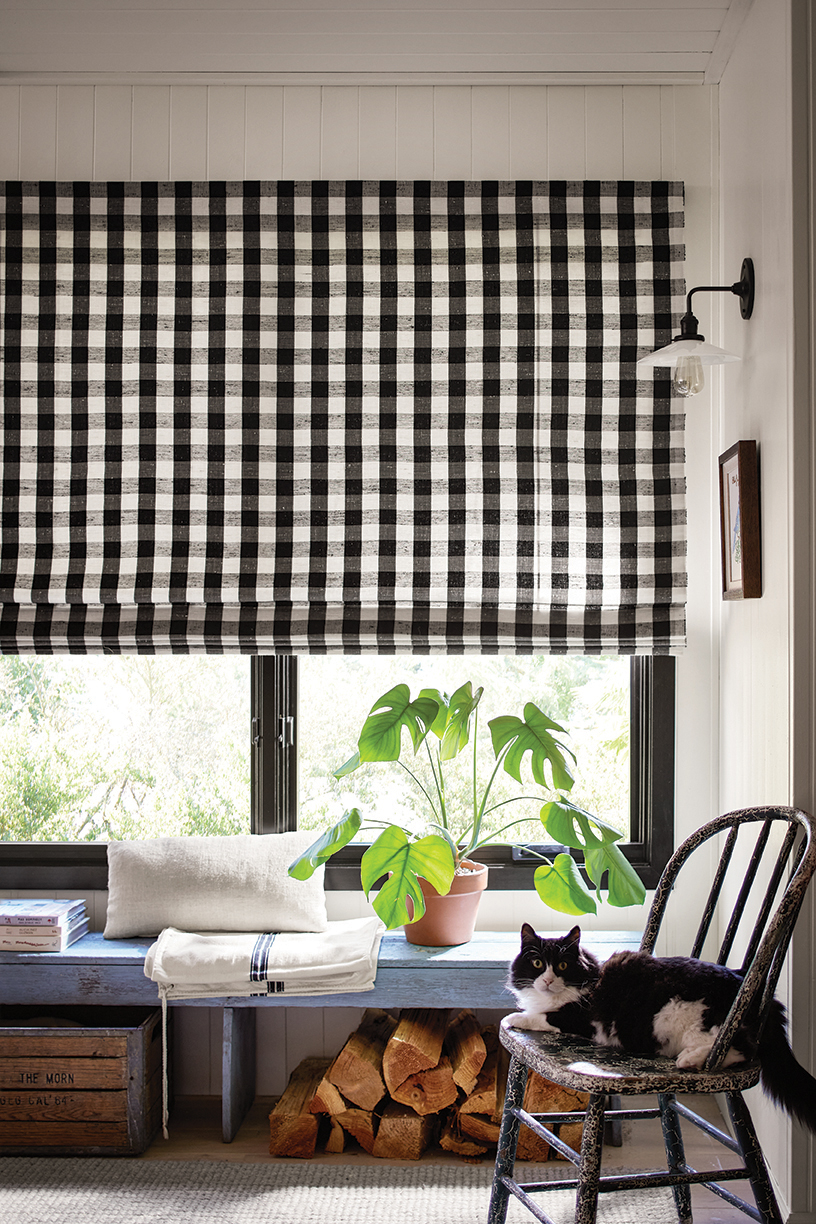 H&F: What inspired you to want to do a window covering collection? 
MH: There is such a disparity between good and bad quality window coverings. I think it's a category where you get what you pay for – invest in quality, and you'll see a return on that investment. It's also something that has a real mix between aesthetic and function. They serve a function to block the light because it's a TV room or a kid's bedroom but also have to look great. 
I wanted to design a product that wasn't out there in the market already. Which is an interesting pattern and design that isn't boring but can be layered into other parts of the room. And made by a locally owned company using sustainable materials.
H&F: How would you describe your style?
MH: Modern Americana. 
H&F: How would you describe modern Americana?
MH: Design rooted in nostalgia. It's something that's left open a little bit for people to interpret in their own way, but for me, it's ginghams, plaids, vintage quilts, things that you remember from growing up but maybe can be made modern in new ways but still rooted in the past. 
H&F: Are there particular colors or patterns in your designs that you find yourself returning to often?
MH: Blue is my favorite color. I think it's everybody's favorite color. I think a lot about clothing when I think about design – it's all about blue jeans. Forever in Blue Jeans. And black and white goes with everything; modern, traditional, glamour, deco, farmhouse. It's a color palette that can be applied in different ways.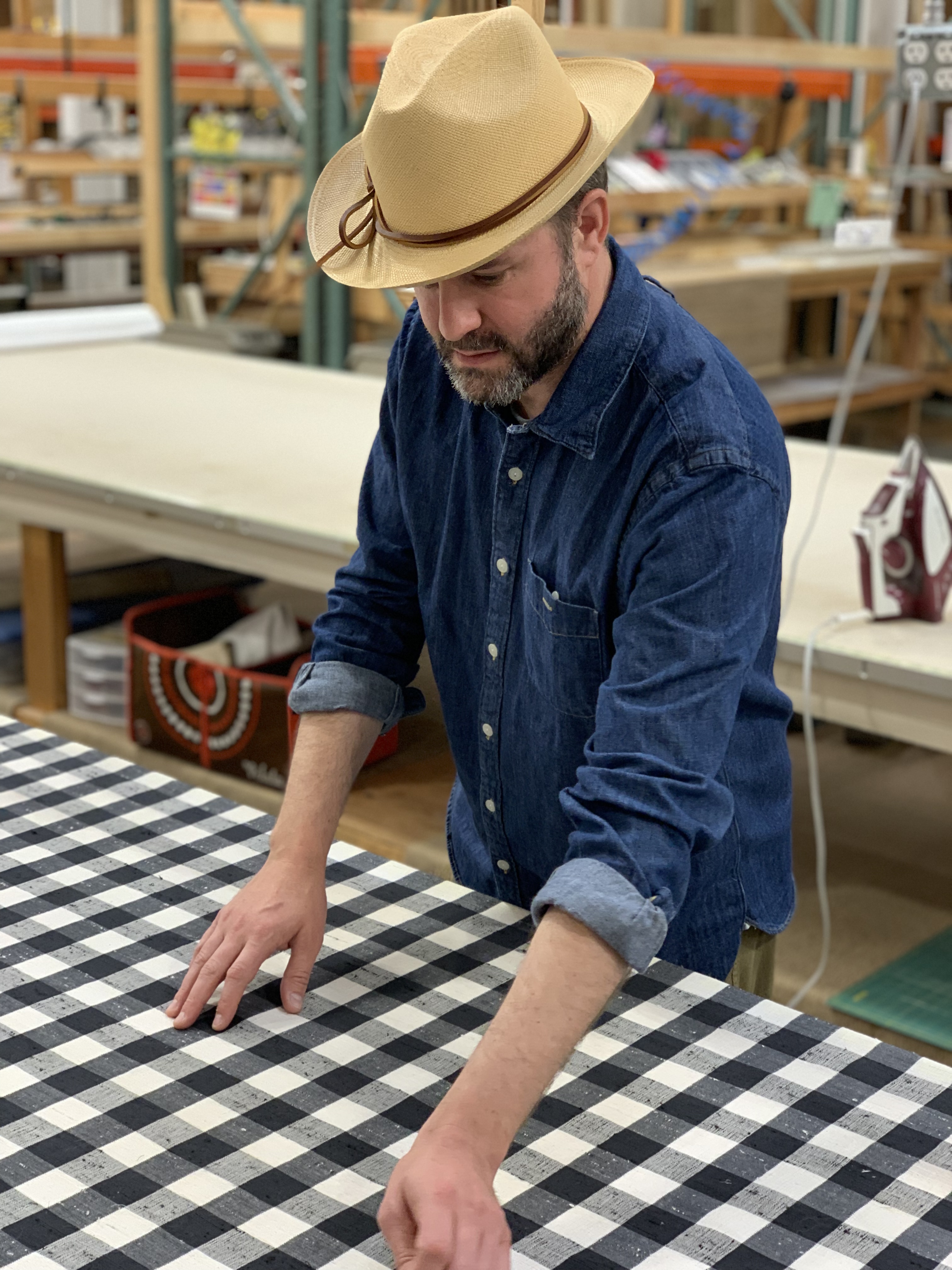 H&F: What was it like working on a collaboration with H&F?
MH: A lot of the original inspiration was based on things like blankets and old sweaters and random vintage textiles.  I'm very visual and initially, I had no idea how my little sketches and swatches of fabrics and cut-out pieces of graph paper would translate into a grassweave. It was so exciting to see the first round of actual samples come back from the weaver.
H&F: How important was it to use natural fibers to create the design versus doing something like a screenprint? 
MH: Super important. It's all about texture. These are patterns, but the most important thing is that they all have texture, giving a softness to them. These could look very harsh if they were screen-printed fabrics. You can find similar designs in the screen-printed fabric world, and I'm not interested in that. But you can't find these in a grassweave world. Product design for me is developing things that aren't there – that you want.
H&F: How did you feel when you saw the designs for the first time?
MH: Instantly like, "this is exactly right." It felt very easy. From the first set of samples, it was "yep, even if nothing changes, this is great." This collaboration just clicked and it never felt like work.
H&F: How did you decide which designs you wanted to use for this first collection? 
MH: I wanted everything to be immediately recognizable. For people to see it and associate it with me and be like, "yes, of course, he's going to do that." Like music, I wanted to play my greatest hits.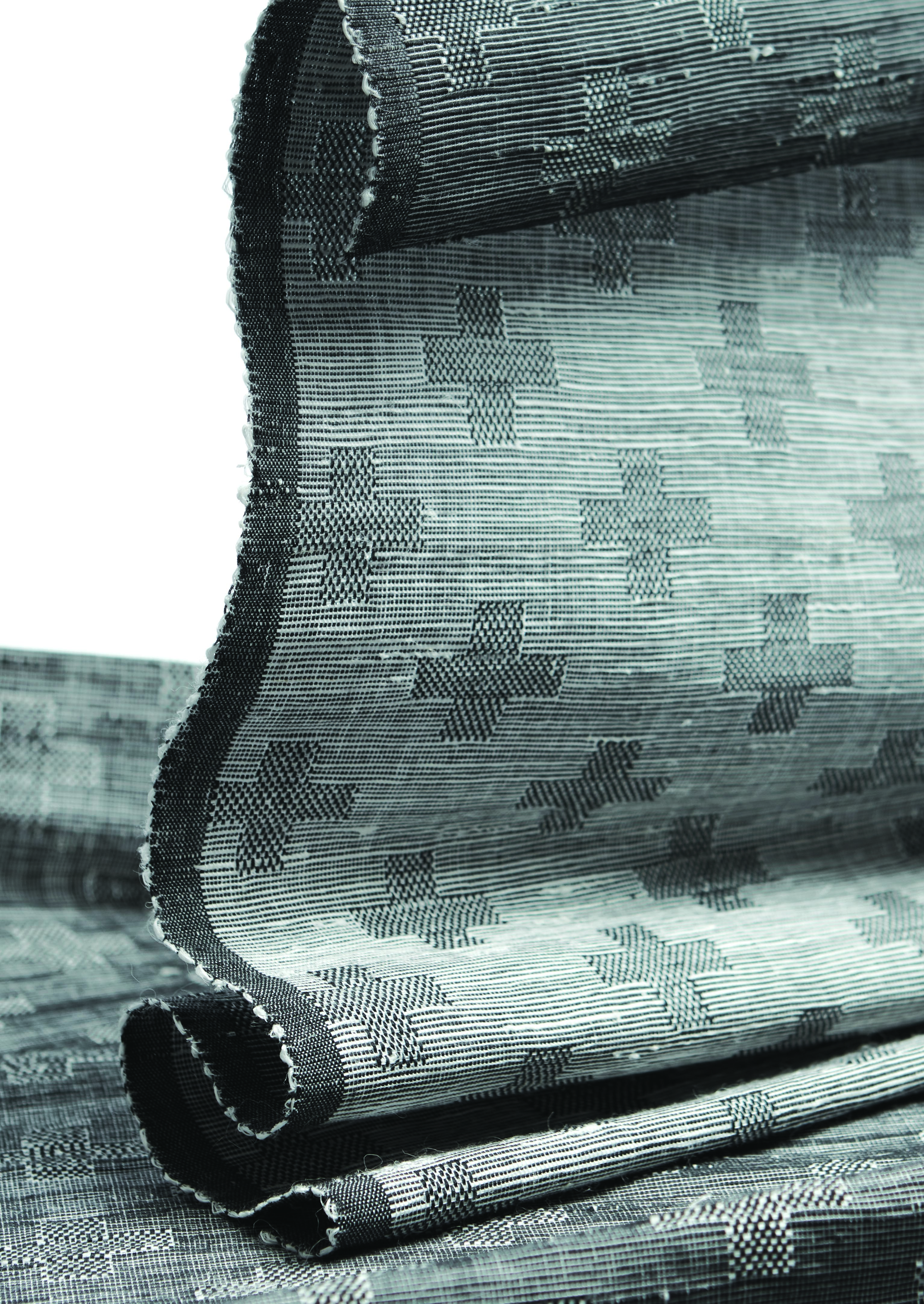 H&F: What is great about these designs is that anyone can look at them and have some sort of connection to them – a grandmother's well-loved quilt, a favorite gingham check shirt, a favorite cable knit sweater. 
MH: Yes! Yes, there's something comfortable and comforting about them. And it's also really well made and custom. Really high-end, high quality. If I had to define luxury, it's not the stuff you can't touch; it's stuff that's well made that gets better with time. Timeless.
H&F: How important are window coverings in the overall design of a room?
MH: Window coverings are always the first thing I pick for a room along with the rug. They go hand-in-hand and have to talk to each other. If they're bold, they can set the tone, or if everything else is bold, they can sort of be worked in. You'll notice there are no solids in my collection – Hartmann & Forbes didn't need me for that. But some of these subtle patterns can work as solids. The Gingham can be used as a neutral, Quilt is a solid to me, Cableknit is a solid.
H&F: You have specified projects with other window covering companies in the past. Why did you decide to work with Hartmann&Forbes?
MH: A big part of my design philosophy is working local and shopping local, supporting local businesses and communities. There are artistic aspects of what an interior designer does, but the bottom line is that it's a service industry. I rely heavily on customer service from the brands and manufacturers that I work with. That's why it's super important to work with a local company that is design trade-focused, just from an industry standpoint that's not retail-focused or direct to consumer. It ensures quality and makes things more special and unique. It encourages people to respect the process, which is you hire an interior designer who then provides the service and materials and works with the showrooms. I'm old school in that way.
Published this year, Humphrey's first design book is called Modern Americana.
The Max Humphrey Collection by Hartmann&Forbes features five Woven-to-Size Grassweave Windowcovering series.